The transformative power of dance
Movement Medicine with Mira offers beautifully crafted and immersive dance meditations,  held with captivating music and clear guidance. A safe and supportive space for you to drop into the intelligence of your moving body and connect to the transformative power of the dance. A way to release, replenish and expand into a greater sense of inner balance. 
Through the embodied presence of our dance we experience our creative potency and deepen our connection to ourselves, each other and the web of life. We honour our unique expression as we welcome who we are and all that we may become.  
Mira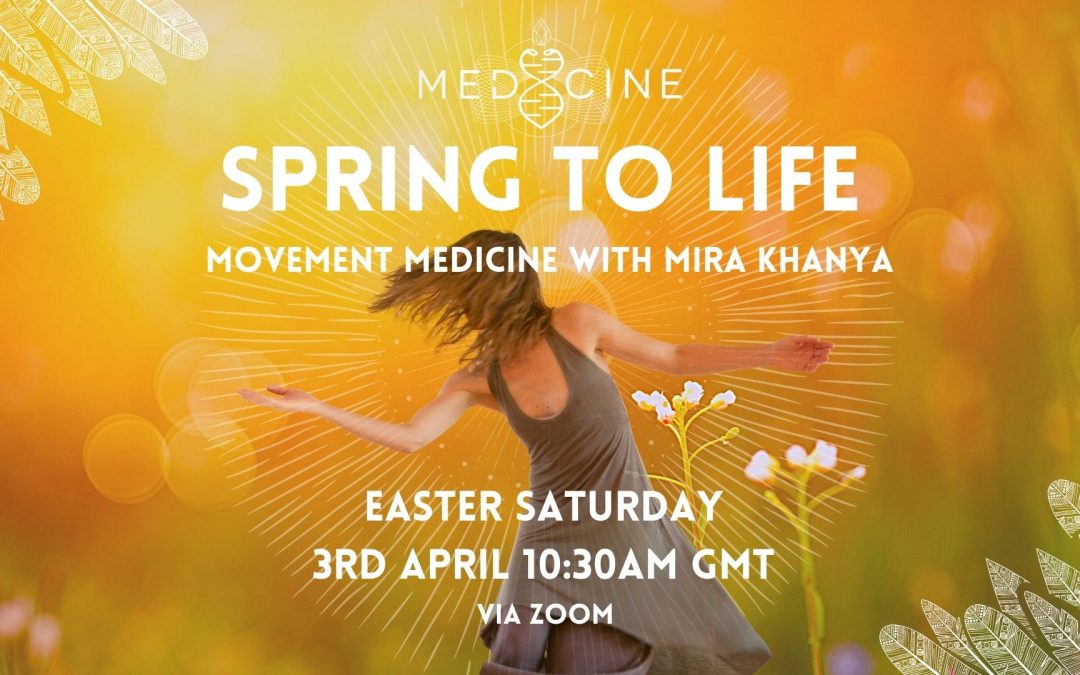 For more info: http://movementmedicinewithmira.com/event/spring-to-life/
WHAT'S ON OFFER
Weekly Classes
Join us on a Wednesday evening in the heart of Islington. A moment midweek for you to release and replenish through the dance, while being supported by a growing community of friends.
Women's Circles
We gather monthly on a Sunday evening, dancing and sharing – deepening our connection to ourselves, each other and the sacred. A space to feel the nourishment and support we as women can offer each other.
Workshops
A deep dive into the Movement Medicine practices. Exploring different threads of enquiry and ways to bring the medicine we receive back home into our daily lives.
Ceremony
In ceremony we bring our own intention and questions into the dance. We dance deeply, calling in inspiration as we connect to a much greater force. We embody our imagination and expand our consciousness – dancing for our own wellbeing and the wellbeing of this planet and the interconnected web of life.
Bespoke Events
If you have a special event coming up and feel to celebrate and honour the moment through dance, then do get in touch. Birthdays, blessingways, rites of passage etc… Let's come together to create a beautiful dance journey for you and your friends and family.
Individual Sessions
A supportive and safe space to explore creatively. A journey to deepen connection with yourself, your own inner guidance and your unique contribution to life.
MM in Business
Unique workshops that invites businesses to come into deeper connection with the intelligence and creativity of the body, mind and heart. Gathering resources and inspiration to cultivate a supportive environment in which business and working relationships can flourish.