The transformative power of dance
Come join our beautifully crafted and immersive dance meditations. A space to gather in community and experience our creative potency while deepening connection to ourselves, each other and the interconnected web of life. Journeying deeply as we drop into the intelligence of the moving body and connect to the transformative power of the dance. A space to release, replenish and expand into a greater sense of inner balance. Held with gentle guidance and a weaving of medicine songs, sacred sounds and tribal rhythms from around the globe – we anchor ourselves into the strength of our beating hearts. We experience the power of community and lift our prayers for all of life.
Come join me at this years Medicine Festival on Friday 9:30-11am in the Movement Shala and 9-10:15pm on Saturday night on the main stage Inter-Being.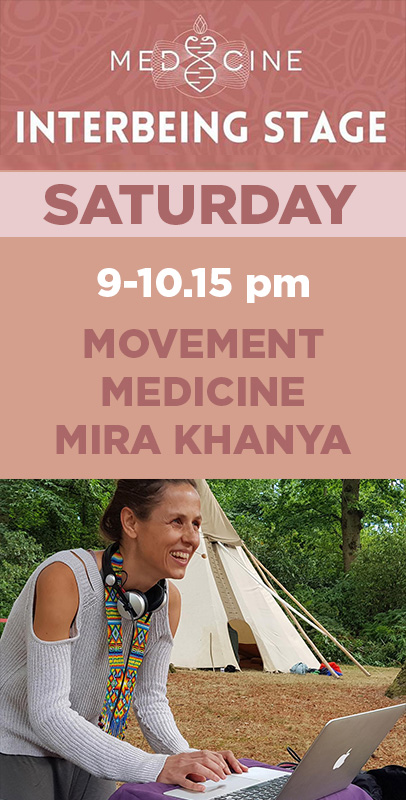 WHAT'S ON OFFER
Mira offers ceremonial dance spaces in person or online.
Her online offerings grew out of the pandemic – and has gathered dancers from across the globe including the UK, Europe, Russia, America and South America. Together these dancers lift a strong embodied prayer to the heart of the world – dancing from the comfort of their own living room, balcony, garden or park.
Gathering to dance indoors or outdoors on the land and in community – and now also bringing immersive dance experiences with silent disco headphones – is such deep medicine. And over the next while Mira will offer more in person dances and Movement Medicine Cacao Ceremonies in and around London and Somerset or where ever the call comes from. Every few months she also offer a hybrid Movement Medicine and Ecstatic Dance session for Ecstatic Dance UK and Ecstatic Dance Bristol.
Mira also loves creating bespoke events – tuning into how she can support your vision for your event. It can and has been varied and rich experiences. Like creating a ceremonial dance space and cacao ceremony at a breath-work retreat or offering a dance at a conference focusing on global issues and climate change. Offering online dances for a group of female entrepreneurs embracing their authenticity and visibility in the world or creating a 40th birthday celebration and ritual. Feel free to get in touch for a chat if you have an event you are dreaming in and let's see what we can co-create.